We now have an exciting new Gallery Space and shop - 'Barnoon Arts' Find us at The Harbour Galleries, in the heart of St.Ives.
Showcasing a range of contemporary original work by Peter Giles and Zoe Eaton, Affordable Paintings, drawings, prints and cards are available for sale alongside a range of art materials, and our colouring books. Contact us for art sales enquiries. We can courier art to you .
Pay Pal Link for Purchases HERE
Unit 6, The Harbour Galleries, The Wharf, TR26 1LF Open / Daily / 10 - 5 pm / or by appointment
Gallery Artist - Peter Giles
Peter's practice is abstract drawing using comtemporary marker pens and fine liners to make intricate, beautiful images. Peter Grew up in Milton Keynes where for a long time he was a musician and teacher. He started exhibiting in 2000 . A member of The St Ives Society of Artists and tutor at Barnoon Workshop.
Peter works on paper are for sale on A3, A2 and A1, available framed or unframed.
Gallery Artist - Zoe Eaton
Zoe creates colourful, organic abstract works on canvas and paper. Zoe lives in St.Ives, originally from London. She studied fine art painting at Northampton University. Zoe now runs workshops at Barnoon workshop. Member of the St.Ives Society of Artists. Zoe works in oils, acrylics and waterolours.
Cards, Prints, Books & Postcards
COLOURING BOOKS
Get beautiful and original cards with a difference!
Original artwork cards by Peter Giles each with a unique and individual drawing
Little Oil Paining Cards by Zoe Eaton, each an original abstract painting
Colour your own Postcards - with black and white scenes of St.Ives / 60 p each.
PRINTS
Quality art Prints, from orginal artwork by Zoe Eaton and Peter Giles. Printed with quality inks on heavy weight papers. A3/ £10 each, unframed
Hand tinted with watercolour scenes of St.Ives Make great gifts or souveniers of St.Ives. A4 with mount, backingboard and bag / £12
Standing Stones by Zoe Eaton: Quality archival digital poster/print from an Abstract watercolour painting. A3 unframed print on A3 200 gsm satin print paper. Available instore or online £9,99
Black Star by Peter Giles Unframed, Quality archival, digital print A3 landscape image. Printed from original monochrome line drawing with fine liner pen. Print is on quality 300 gsm heavy paper satin print. Available in store or oneline. £10 plus p&p
Summer Is Coming by Zoe Eaton Unframed A3 print, portrait. Quality archival colour inks, on quality 300 gsm paper. From original acrylic painting. Available in the gallery, or online. £9.99 plus p&p
We have in stock a range of quality art materials - including sketchbooks, drawing equipment, acrylic and watercolour paints.
Essential Art kits (£20 each) - contain everything you need for art on the go, and come in a convenient carry case - choose from Drawing, Watercolours or Acrylic Painting.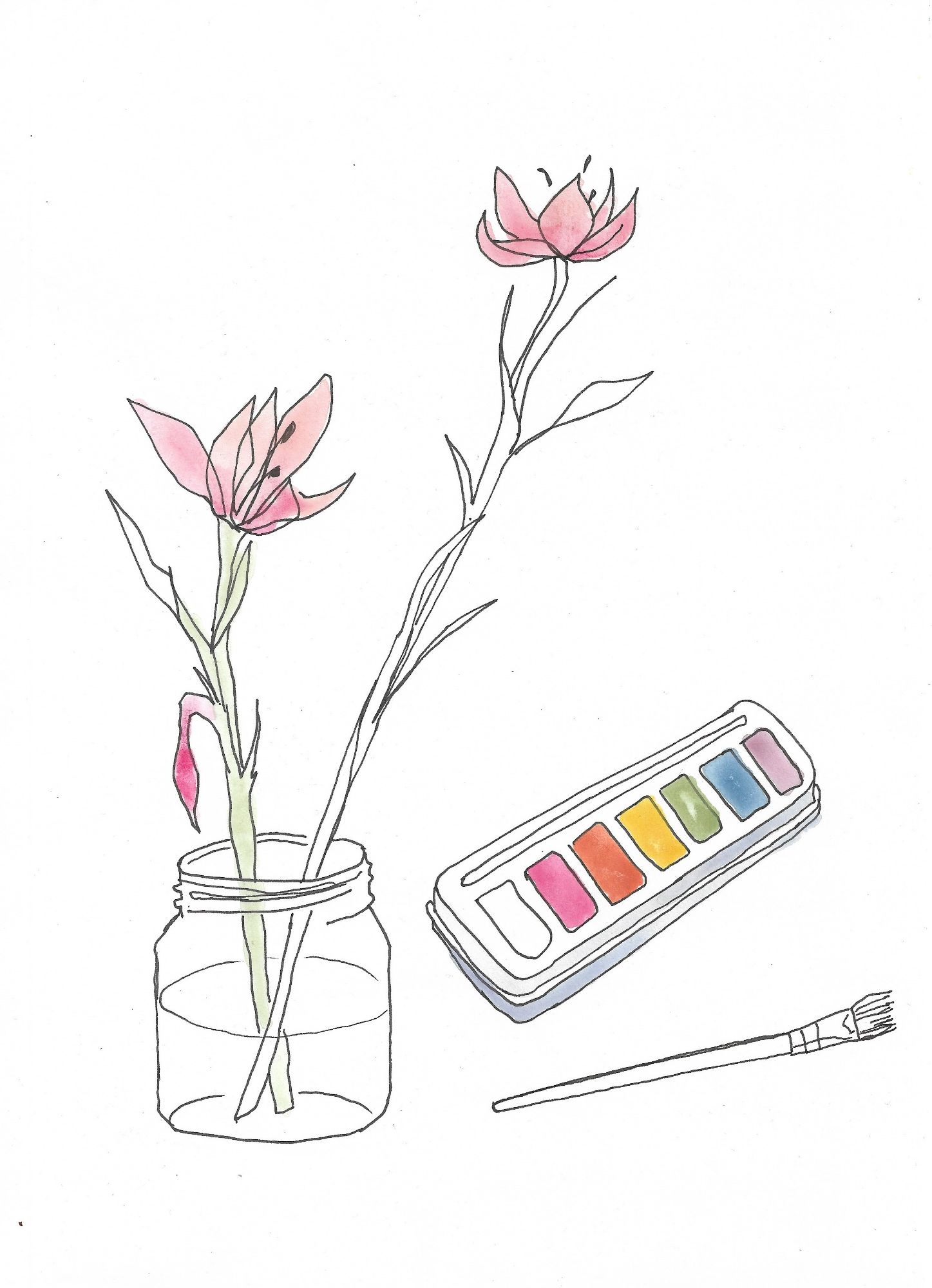 The Perfect Gift for your creative friends and familly. Vouchers can be redeemed against any of our Courses, Workshops, artwork and art materials. Available in amounts of £10, £20, £30 or £40 . or multiples thereof
Pop in the shop at the harbour Galleries to buy one in person, or see our home page for how to buy online.